HOW TO GET TO THESSALONIKI
 
Enjoying a strategic position in Greece and Europe, Thessaloniki is easily accessible by all means of transport. The city has an International Airport (Macedonia International Airport by IATA code SKG), Railway station, Harbor, Intercity Bus Station and is connected to the rest of Greece and neighboring countries through national and international highways. Plane, train, bus, car or cruise ship, see how you can get to Thessaloniki and choose the best option for you.
SAVE UP TO 20% ON TRAVEL WITH THE STAR ALLIANCE NETWORK  
The Star Alliance member airlines are pleased to be appointed as the Official Airline Network for EUROMAT2017.
To obtain the Star Alliance Conventions Plus discounts please visit Conventions Plus online booking tool: http://conventionsplusbookings.staralliance.com/trips/StarHome.aspx?meetingcode=A302S17
Registered Event participants plus one accompanying person travelling to the Event qualify for a discount of up to 20%, depending on fare and class of travel booked.
The participating airlines for this Event are: ANA, Adria Airways, Aegean Airlines, Air Canada, Air China, Air India, Air New Zealand, Asiana Airlines, Croatia Airlines, EVA Airways, EgyptAir, Ethiopian Airlines, LOT Polish Airlines, Scandinavian Airlines, Shenzhen Airlines, South African Airways, TAP Portugal, THAI, Turkish Airlines, United.
Discounts are offered on most published business and economy class fares, excluding website/internet fares, senior and youth fares, group fares and Star Alliance Round the World fares.
The following Star Alliance airlines are offering special discounts for travel to/from Japan: Special Offers for Japan are available from : Turkish Airlines, Air New Zealand.
To obtain these discounts for travel to/from Japan please contact the respective Star Alliance member airlines' booking office. Contact details can be found on  http://www.staralliance.com/convention-delegates under "Conventions Plus Booking Contacts".
Please quote the following Event code A302S17 for ticket reservation.
So don't wait! Click Here to book your flight today!!

Thessaloniki International Airport "Macedonia"
Thessaloniki is easily reached by direct international flight connections from about 81 international destinations, including major cities around the world.  
Thessaloniki Airport "Macedonia" is the second largest airport in Greece, located 14 km from the city center and serving over 3.5 million passengers per year.
The website of Thessaloniki's "Macedonia" Airport is: www.thessalonikiairport.com
A public bus service is available 24 hours a day from the airport to the city centre, bus 78 or 78N. These bus services operate from the airport approximately every 30 minutes. Tickets cost €1.00 one-way.
For an up to date time table please visit the official website of OASTH (Thessaloniki's public bus transportation) – www.oasth.gr
At the airport, you will find currency exchange, automatic teller machines (ATM), catering, duty free and other shops, parking, car rental companies and so forth.  The Tourist Information Office operates Monday - Friday from 8:30 to 20:00 (excluding holidays).
International Flight Connections
Ιnternational Flights (Direct & Transit flights)
Armenia: Yerevan / Austria: Vienne, Innsbruck / Belarus: Gomel, Minsk
Belgium: Brussels, Charleroi / Canada: Toronto / Cyprus: Paphos, Larnaca
Czech republic: Prague, Turany, Ostrava / Denmark: Copenhagen / France: Paris
Georgia: Tbilisi / Germany: Bremen, Baden-Baden, Stuttgart, Berlin, Schonefeld, Dusseldorf, Weeze, Frankfurt, Hahn, Munich, Hannover, Bonn - Cologne, Nuremberg, Hamburg / Hungary: Budapest / Israel: Tel Aviv
Italy: Milan, Pisa, Rome, Ciampino, Verona / Kazakhstan: Almaty
Latvia: Riga / Malta: Valetta / Netherlands: Amsterdam / Norway: Oslo Rygge
Poland: Warsaw modlin, Gdansk, Katowice, Poznan, Wroclaw / Romania: Bucharest Henri, Coanda / Russia: Astrakhan, Samara, Rostov, St.petersburg, Moscow, Sheremetyevo, MineralnyeVody, Voronezh, Krasnodar, Ufa, Novosibirsk, Nizhniynovgorod, Kaliningrad, Yekaterinburg, Moscow Domodedovo, Kazan, Volgograd, Saratov, Perm / Serbia: Belgrade / Slovakia: Bratislava / Slovenia: Ljubljana / Spain: Barcelona / Sweden: Stockholm
Switzerland: Basel - Mulhouse – Freiburg, Zurich, Geneva / Turkey: Istanbul, Izmir
Ukraine: Dnepropetrovsk, lviv, Kharkov, Odessa, Kiev / U.K. : London, Newcastle, Manchester, Bristol, East midlands
Direct - Non-Stop International Flights to Thessaloniki
Central Europe: Basel– Mulhouse - Freiburg, Zurich, Berlin-Schönefeld, Bonn-Cologne, Düsseldorf Weeze, Hannover, Frankfurt Hanh, Nuremberg, Munich, Stuttgart, Bremen, Hambourg, Baden- Baden, Vienna, Innsbruck, Paris – Orlysud, Paris Beauvais, Brussels-Charleroi, Rome-Fiumicino, Rome-Ciampino, , Milan – Linate, Milan-Bergamo, Pisa, Girona Barcelona, Amsterdam Schiphol
United Kingdom: London-Gatwick, LondonStanted,, Manchester, Bristol, East Midlands
Scandinavia: Stockholm Skansta, Stockholm Arlanda, Oslo, Copenhagen
Balkans & Eastern Europe: Belgrade, Bucharest-Henri Coandă, Budapest, Istanbul, Izmir, Kazan, Moscow-Domodedovo, Moscow- sheremetyevo, Prague, Riga, St. Petersburg, Yekaterinburg, Perm, Volgograd, Kaliningrad, MineralnyeVody, Nizhniy Novgorod, Ufa, Voronezh, Rostov, Samara, Astrakhan, Warshaw, Modlin, Tsibili, Kiev, Kharkov, Odessa, Lviv, Dnepropetrovsk
Cyprus: Larnaca, Paphos
Domestic Flights (direct and transit)
35 domestic destinations: 
Athens, Heraklion, Kalamata, Corfu, Kos, Limnos, Mykonos, Mytilene, Rhodes, Samos, Santorini, Skyros, Chios, Chania, Alexandroupoli, Syros, Skiathos, Sitia, Zakynthos, Araxos, Argostoli, Astypalaia, Icaria, Ioannina, Kalymnos, Karpathos, Kastellorizo, Cythera, Leros, Milos, Naxos, Kasos, Paros, Preveza, Sitia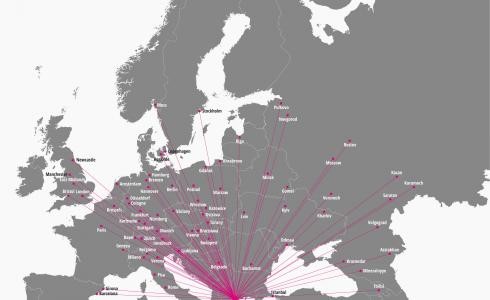 Train-Suburban
The New Railway Station is the central passenger terminal of Thessaloniki and is located on Monastiriou Street. It has seven platforms and a range of commercial stores operate within the station. The station is used by TRAINOSE as a starting point or a transfer point to other trains that cover the entire length of the rail network in Northern Greece. The suburban lines Thessaloniki-Edessa-Florina and Thessaloniki - Larissa (serving ten intermediate stations) start at the Railway Station of Thessaloniki as does the long distance line Athens - Thessaloniki - Alexandroupolis – Dikea. The station also serves international routes to Sofia, Skopje and Belgrade.
Ticket purchases can be made through the website of TRAINOSE (http://www.trainose.gr/en/) or at contact & sale points:
1. Passenger Station of Thessaloniki
Opening hours: 24 hours
Tel: 2310-599 421
2. Travel and Tourism Office of TRAINOSE
18 Aristotelous Street, Thessaloniki
Opening hours: Monday to Friday 08:00-15:30
Bus (Coach)
KTEL ''Macedonia''
The Intercity Bus Station KTEL "Macedonia" provides an important service for long-distance road transport in Thessaloniki. Eight hundred routes are performed daily serving 41 Bus Stations, 5 international routes (Germany, Bulgaria, Albania, Czech Republic and Slovakia) and 10 coastal routes. The facilities include cafés, restaurants, indoor and outdoor parking, luggage storage and free Wi-Fi and the station is easily accessible via 12 lines of urban transport and by taxi.
Address: 244 Giannitson Street
http://www.ktelmacedonia.gr/en/home/
KTEL Halkidiki
A separate bus station is in operation to transport passengers to the tourist resorts of the region of Halkidiki. The KTEL Halkidiki bus station is located on the 9th km of the National Road Thessaloniki - N. Moudania. Stations are operational in Nea Kallikratia, Nea Moudania, Kassandreia and Arnea. KTEL HALKIDIKI also provides a parcel service, delivering and transporting parcels. Facilities are accessible to people with disabilities and the local bus network connects KTEL HALKIDIKI to the city of Thessaloniki and can be accessed by taxi. 
http://www.ktel-chalkidikis.gr/index1.php
Car
Egnatia Odos is the Greek portion of the trans- European route, E90.
Egnatia Odos connects Thessaloniki to the port of Igoumenitsa where there are regular ferry services for Italy,  the east, Kipous in Evros on the Greek-Turkish border. Furthermore Egnatia Odos connects Thessaloniki with the Balkan countries and Europe. The National Road Patra -Athens -Thessaloniki - Evzoni, connects the city of Thessaloniki to the capital of Greece and constitutes part of the European motorway E75.
Parking: the city has many municipal and private car parks. The cost for the first hour ranges from 2.50 to 4 euros and the charge is slightly less for every additional hour.
Ship - Cruise
For over 2,300 years the port of Thessaloniki has been the most important port in Macedonia and one of the most important ports in southeastern Europe. The advantageous geographical position and excellent road and rail connections contribute to the largest transshipment port in Greece. The port is located in the city center, one kilometer from the New Railway Station and 16 km from the International Airport "MACEDONIA" of Thessaloniki.
The passenger terminal "Macedonia", housed in a neoclassical building on the ground floor entrance of the harbor, offers modern spaces that meet all requirements. It houses cafés, restaurants, venues, a cinema, three museums and has become part of everyday life of the city and a favorite entertainment spot for locals and visitors.